Download Climate Timeseries
Upper Colorado River Basin Monthly Precipitation (from NCEI 5km monthly gridded dataset)
The time-series has the monthly precipitation averaged over the Upper Colorado River Basin. It is derived from the 5km gridded US dataset.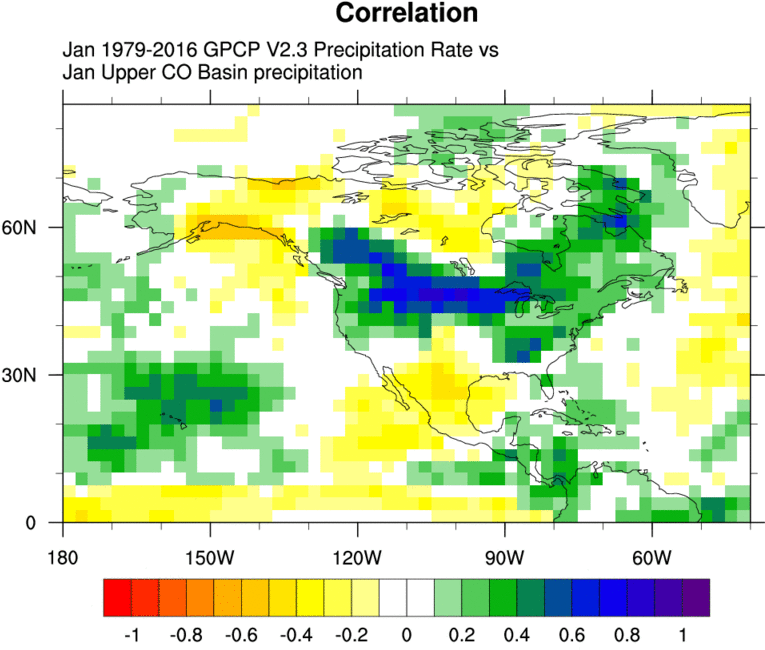 Correlation of GPCP Precipitation with Upper Colorado Basin Precipitation (water year).
Time Interval: Monthly
Time Coverage: Oct 1895 to Dec 2017
Update Status: Not regularly updated
Get Data:
Upper Colorado River Basin precipitation (What is standard format?)

Timeseries is calculated at NOAA/ESRL PSL from the 5km grided dataset at NCEI.
References:
Please cite NCEI. Also, data file accessed from NOAA/ESRL PSL's website https://psl.noaa.gov/ on yyyy/mm/dd.
[ SOI | NAO | Rec NAO | AO | AO 20thCR | PDO | NP | TPI | Iceland P | Azores P | Gilbralter P | Nagasaki P | Madras P ]
[ Niño1+2 | Niño3 | Niño3.4 | Niño 4 | AMO | Global T stations | Global T+SST (NASA) | Global T+SST (CRU) | Sunspots ]
---