2022 Women's History Month Spotlight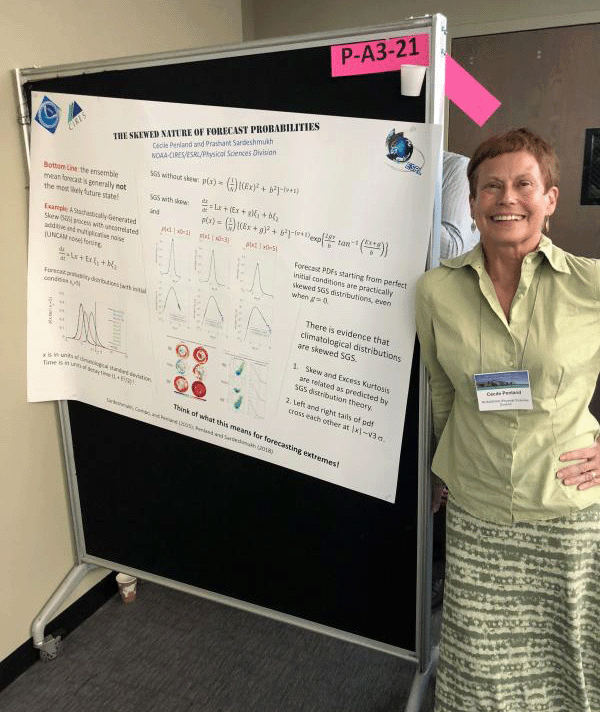 What is your position at PSL?
I am a NOAA research scientist on the Dynamics and Multiscale Interactions team.
What drew you to your current career or field?
I have always loved the combination of the beauty of abstract mathematics applied to the Earth system and how it can be leveraged to develop extremely useful forecast products.
What was your career path to get here?
I started graduate school in astrophysics, applying statistical mechanics techniques to the description of elliptical galaxies. After passing my oral qualifier against the recommendation of my advisor, I eventually switched my focus to physical oceanography and underwater acoustics. That gave me a solid background in rigorous stochastic theory, but I was drawn to the possible applications of probability theory in climate.
After I got my doctorate in math physics, I spent a couple of years in Europe, mostly at the Max-Planck-Institut für Meteorologie, but also some time at Université Libre de Bruxelles. MPI is where I earned Principal Oscillation Pattern Analysis, which I morphed into Linear Inverse Modeling. POP is the first step of LIM. When I got back to the United States, I taught physics for a year at California State University at Long Beach before getting a grant to work with Michael Ghil at UCLA. I learned a lot from Michael. After having a conversation with Maurice Blackmon in the beer line at an AMS meeting, I applied to CIRES, got hired, and moved to Boulder in 1989. Ten years later, I became a federal employee.
Do you have a favorite moment of accomplishment in your career?
I have several favorite moments. The first one was when I was in a seminar listening to Ilya Prigogine talking about "the energy in the correlations." The physical nature of probability suddenly became clear to me and after that I truly appreciated how sublime the equivalence of thermodynamic and probabilistic entropy is.
The second favorite moment was when PSL/CIRES researcher Prashant Sardeshmukh and I got word that our 1995 article had been finally accepted after fighting with a reviewer for two years. That paper is probably the best of all the papers I've written on LIM.
The third favorite moment came as I was boarding the bus coming home from work, and I'd been having the devil's own time trying to plan a poster on the numerical generation of stochastic differential equations in GCMs that wouldn't put everybody to sleep. I suddenly had this image of a modeler selling his soul to numerical simplicity in return for forecasts. The poster became "The Tragedie of General C. M. Faustus," with the demonic Model Complexity battling with the holy archangels Central Limit Theorem and Data Assimilation for the soul of Stochastic Parameterization. I started laughing and couldn't stop, and didn't care whether or not I looked like an idiot on the bus.
Any advice to a woman just starting out in her career?
Never give in and never give up until you have evidence that you're wrong. Then, change your mind with grace. Don't be impressed with awards and credentials; be sure to know your field well enough to be able to tell the difference between credentials and accomplishments. Pick your battles, and constantly ask yourself whether you're defending your principles or your pride. Try to be nice to people you don't like or don't respect as well as people you *do* like and respect, but don't be afraid to ask hard questions of anybody. Don't get offended when people ask *you* hard questions. Finally, learning other languages, including math and music, will expand your cultural horizons and make you a better scientist.
Posted: March 30, 2022