Download Climate Timeseries
Upper Colorado River Basin Monthly Temperature (from NCEI 5km monthly gridded dataset)
The time-series has the monthly temperature averaged over the Upper Colorado River Basin. It is derived from the 5km gridded US dataset.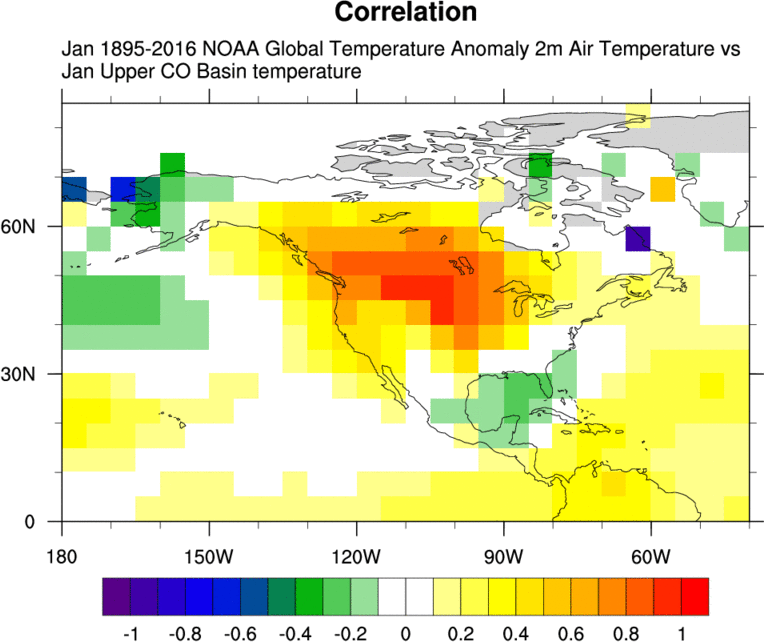 Correlation of U of Delaware Temperature with Upper Colorado Basin Temperature (water year).
Time Interval: Monthly
Time Coverage: Oct 1895 to Dec 2017
Update Status: Not regularly updated
Get Data:
Upper Colorado River Basin temperature (C) (What is standard format?)

Timeseries is calculated at NOAA/ESRL PSL from the 5km grided dataset at NCEI.
References:
Please cite NCEI. Also, data file accessed from NOAA/ESRL PSL's website https://psl.noaa.gov/ on yyyy/mm/dd.
[ SOI | NAO | Rec NAO | AO | AO 20thCR | PDO | NP | TPI | Iceland P | Azores P | Gilbralter P | Nagasaki P | Madras P ]
[ Niño1+2 | Niño3 | Niño3.4 | Niño 4 | AMO | Global T stations | Global T+SST (NASA) | Global T+SST (CRU) | Sunspots ]
---